Shakhrisabz - Mausoleum Shamsiddin Kulol
The mausoleum of Shamsiddin Kulol was built in the XIV-XV centuries in Shakhrisabz in the form of a straight quadrilateral (12.1 x 10.6 m); the dome has not been preserved and the mausoleum was later covered with a flat roof.
Emir Shamsiddin Kulol, who lived for about 90 years and died in 1370, played the most important intellectual role in the formation and development of the future outstanding conqueror and ruler Amir Temur. He was a potter by profession, a theologian, philosopher and scholar by vocation. According to historical records, Shamsiddin Kulol led a modest life and helped many people with advice and deeds. He was highly respected and honoured in the Temurid state.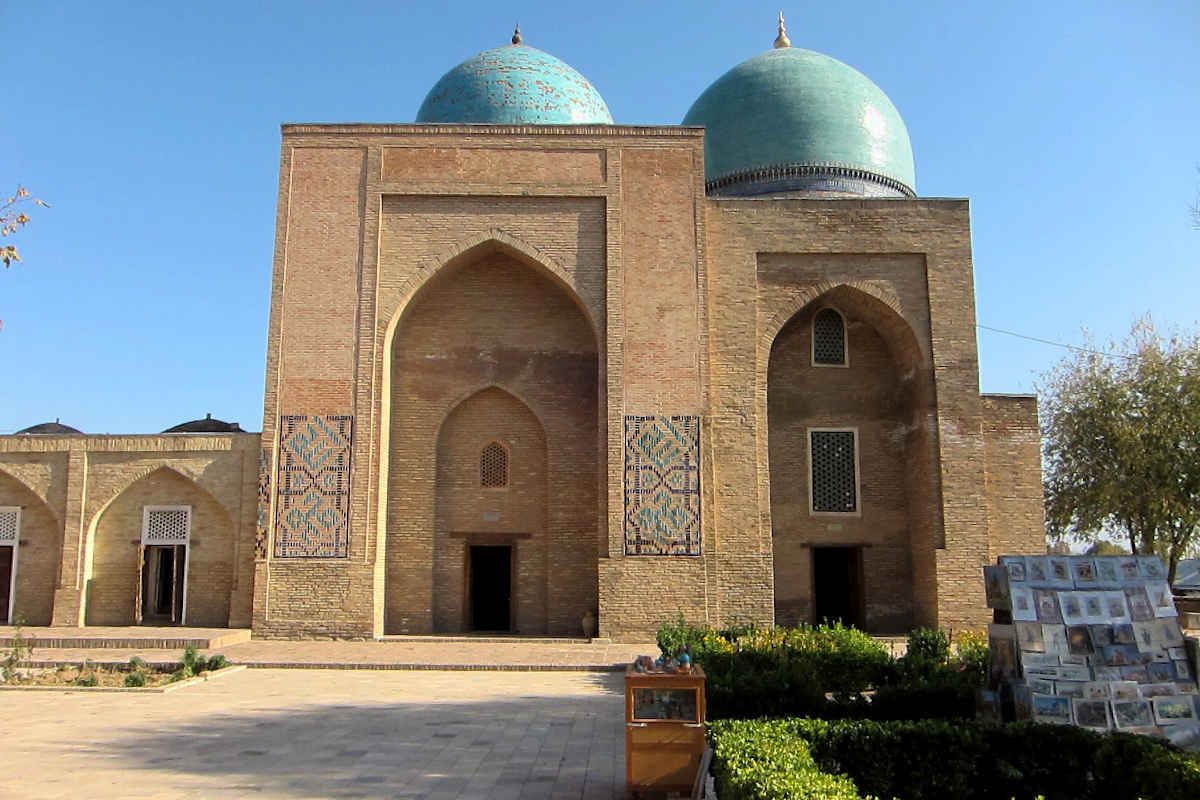 After the death of Sheikh Shamsiddin Kulol, Amir Temur ordered his spiritual master to build a marble monument and a tomb for his relatives and comrades-in-arms. The tomb of the enlightened philosopher, as a sacred place, was immediately revered by many people and his disciples.
Later, Mirzo Ulughbek (the grandson of Amir Temur), an eminent ruler and public figure, built a domed mausoleum of Shamsiddin Kulol on the site of his tomb and former structure. The interior of the mausoleum is amazingly decorated. Various geometric and vegetative paintings were executed on glazed tiles and majolica. The wood-carved doors are like the gates to paradise. They were carved by the most skilful masters. The building was constructed of fired bricks in a square shape (26 x 26.5 x 5 cm).
Sheikh Shamsiddin Kulol al-Keshi, the spiritual master of Amir Temur, was buried here. According to the sources, the ruler's father, Muhammad Taraghay, was buried at the feet of Sheikh Shamsiddin Kulol in the same mausoleum in Shakhrisabz.
The walls have been plastered several times, so that they have partially lost their original appearance. Under the plaster are remains of the mosaic that decorated the azure vault. Inside the mausoleum is a square marble tomb decorated with a charming carved ornament.
It is believed that Sheikh Shamsiddin Kulol inspired Amir Temur with the idea of his high destiny as ruler of the world. The domed mausoleum over the Sheikh's tomb was built in the early 1370s and was originally open on all four sides.
The entrance to the mosque was closed off with a portal. In the 20th century, only the walls and part of the carved marble tombstone remained.