Khiva - Khazarasp Darvaza Gate
The Khazarasp-Darvaza gate was rebuilt in 1842 from burnt bricks during the construction of the Dishan-Kala walls in Khiva during the reign of Allakuli-Khan.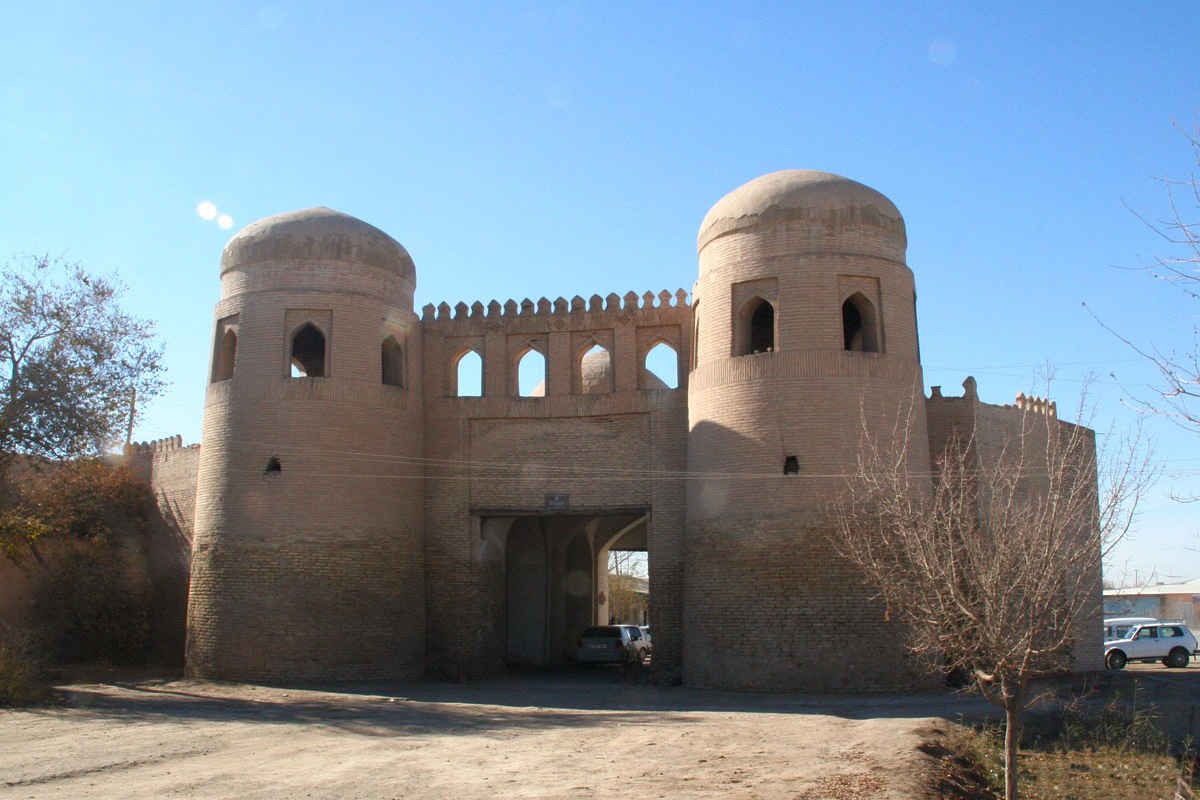 The gate consists of two large observation towers located on the sides of a wide passageway on the road to Yangiarik. Above the passage is an arched gallery with a railing on the sides, the top of which is decorated with battlements.
Although it is the only decorative detail of the gateway, the construction is impressive for its expressive forms. The gate connects Khiva with the settlements of Yangiarik, Bagat, Khanka and Khazarasp.
Dimensions of the Khazarasp-Darvaza Gate in Khiva according to the plan: 23.5 x 6.5 metres, height: 12.2 metres.
Unlike Ichan-Kala, which retained almost all of its external appearance, only some of the gates remained from the outer defensive walls, notably the Khazarasp-Darvaza Gate, 500 metres from the north gate of Ichan-Kala (Bagcha-Darvaza), as well as the Khazarasp-Darvaza Gate and the Gandimyan-Darvaza Gate. Allakuli-khan built the outer wall in 1842 to protect against attacks by the Yomuds (one of the Turkmen tribes). According to the poet and translator Agahi, Allakuli-khan built the Dishan-Kala walls in 3 years and forced all his subordinates to work for free for 12 days a year. More than 200 thousand people participated in the construction of the wall. The dimensions of the outer wall were as follows: Length – 5650 m, height – 6-8 metres, thickness at the bottom – 4-6 metres.
It is interesting to know where so much clay was taken from to build the walls. The research revealed that the clay was extracted two kilometres north of the city, in the area called Govuk-kul; today there is a large lake there. And even today, the local clay of excellent quality is used by modern potters. Legend has it that when the Prophet Muhammad (SAV) built Medina, clay from this area was used, and the lake that was later created is considered sacred.