Tashkent - Kukeldash Madrasah
Tashkent is a city with more than two thousand years of history and has preserved many historical monuments that are excellent examples of Central Asian architecture. A special place among them is undoubtedly occupied by the Kukeldash Madrasah built in Tashkent.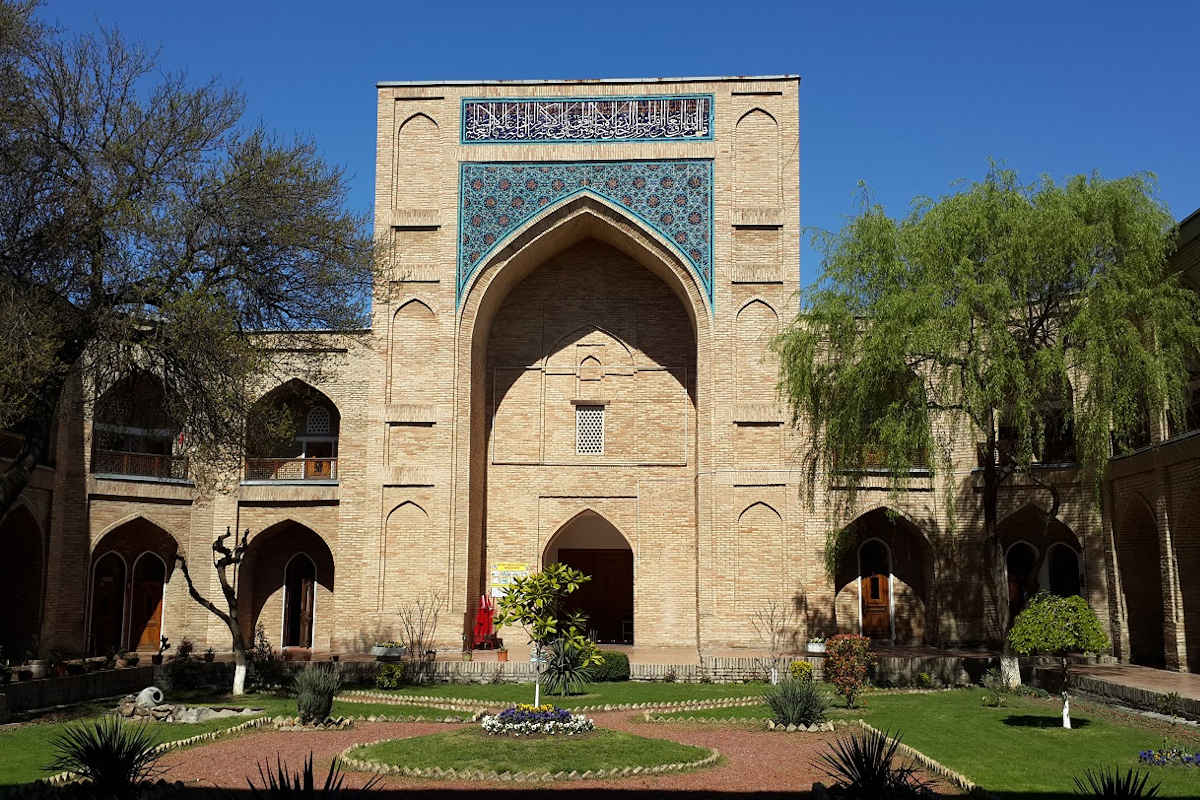 One of the largest Madrasahs in Central Asia, Kukeldash is located in the historical heart of the city – in the so-called Registan of Tashkent (which is the central architectural ensemble that existed in every large city). The Madrasah stands on a small hill near the famous Chorsu Bazaar, which for centuries was a crossroads for caravans travelling along the Great Silk Road.
The Madrasah was built in 1591 at the expense of the famous statesman of the Shaibanid era, Kul-Bobo Kukeldash ("kukeldash" means "the Khan's milk brother"). According to historical documents, Kul-Bobo was not only a high-ranking official, but also a scientist and a poet at the court of ruler Abdullakhan.
 The architecture of the building, constructed of baked bricks, is executed in the best traditions of Oriental architecture. The façade of the Madrasah with its high arched entrance is decorated with colourful mosaics and majolica. The rectangular courtyard is divided into hujshras (cells where students lived), a small mosque and a study hall (darskhona).
For many centuries, the Madrasah Kukeldash was the centre of urban life in Tashkent. In the XVIII. Century there was a caravanserai where travellers and visiting merchants stayed. Later in the XIX century, the Madrasah served as a fortress for the rulers of the Khanate of Kokand. In the 1930s, the blue domes of the mosque, the darskhonas (study rooms) and the second floor of the cells were dismantled for the construction of other buildings and later restored by the craftsmen from Tashkent.
 In the nineteenth century, the Kukeldash Madrasah suffered from two earthquakes in 1868 and 1886 and was subsequently rebuilt in 1902-1903. The destroyed vault of the entrance portal was partially restored in the 1960s.
In the 20th century, the Madrasah building housed a museum of atheism, then a museum of Uzbek national instruments.
In the years of independence, the building of the Madrasah Kukeldash was restored on the basis of the preserved photographs from the 1980s. After the restoration in 1999, it was decided to return the Madrasah to its role as an Islamic school.