Khiva - Madrasa Islam Khoja
The most remarkable structures of the historical part of Khiva are the minaret and the madrasa, part of the Islam Khoja building complex. According to the architect's ingenious idea, the attractiveness of the structures comes from their unusual contrast: the highest minaret in the city is next to the tiny madrasa. Thus, the minaret appears simply gigantic due to the visual effect of being next to each other. The minaret was originally meant to serve as a landmark for travellers approaching the city; originally, this architectural landmark was meant to serve as a kind of lighthouse.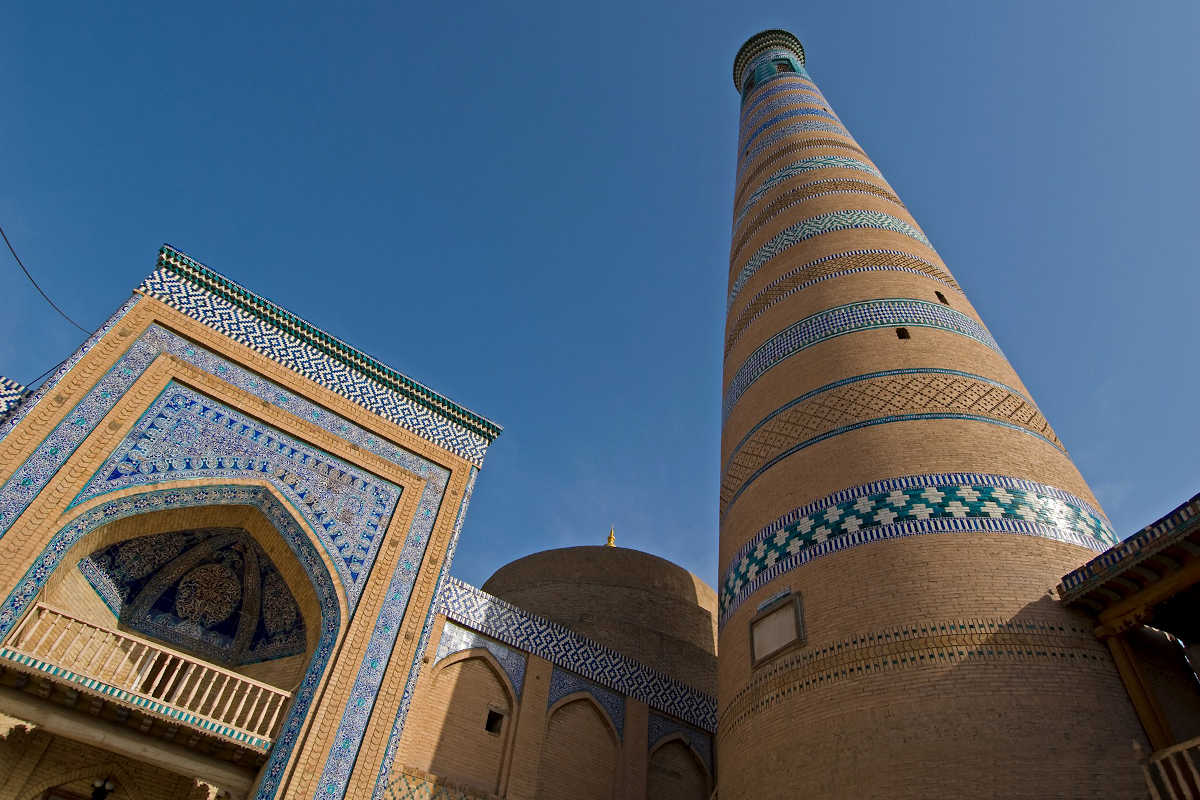 The Islam Khoja Madrasa (1910) is located behind the Islam Khoja Minaret. Islam Khoja, the Grand Vizier of Isfandiyar Khan, was a very progressive man. Besides the minaret and the madrasa, he opened a school for local children, a hospital, a post office and built bridges and roads.
However, Islam Khoja's building activities were brought to an end by a dastardly murder involving Isfandiyar-khan. He was buried alive in the ground and the architect Raimbergen was also murdered.
This madrasa in Khiva was built with the money of Islam Khoja, the advisor of Isfandiyar Khan. Masters from the village of Madir Bolta Vaizov and Madiminov carried out the completion of the madrasa with glazed tiles based on designs by Esh-Muhammad Khudaiberdiev.
The Islam Khoja Madrasa is a unique architectural complex in Khiva, reflecting the influence of the times and the spirit of creative inspiration of the national masters. The madrasa consists of 42 hujrasas, a large domed hall and a tall minaret.
The mastery of the architects is evident in the contrasting combinations of architectural forms skilfully used in the limited space. The mihrab niche is decorated with majolica and ganch carvings.
The Islam Khoja Madrasa is much smaller, asymmetrical in plan and has a main entrance just outside the Islam Khoja Minaret in Khiva. The interior is represented by a rather spacious hall under the central dome, forty-two hujshras (cells) along the perimeter of the courtyard. A mosque adjoins the central building from the southeast. The dome of the structure is deep and massive; the mihrab (a niche indicating the direction to Mecca) and the entire interior are decorated with majolica and elaborately patterned ganch. The outer part of the madrasa at the entrance is decorated in the same style as the adjacent majestic minaret. The gateway structure forms the second floor.