Shakhrisabz - Mausoleum Gumbazi Sayidon
On the south side of the Shamsiddin Kulol Mausoleum in Shakhrisabz is another mausoleum, possibly by Ulughbek's descendants, called Gumbazi Sayidon. To the south of the Shamsiddin Kulol mausoleum, another domed mausoleum was built by Mirzo Ulughbek.
It was intended for the deceased members of the Temurid dynasty and was called the Maqbara of Ulughbek. The small structure charms with its graceful proportions and the beautifully executed entrance door, which is covered with a deep trihedral carving with floral and epigraphic ornaments.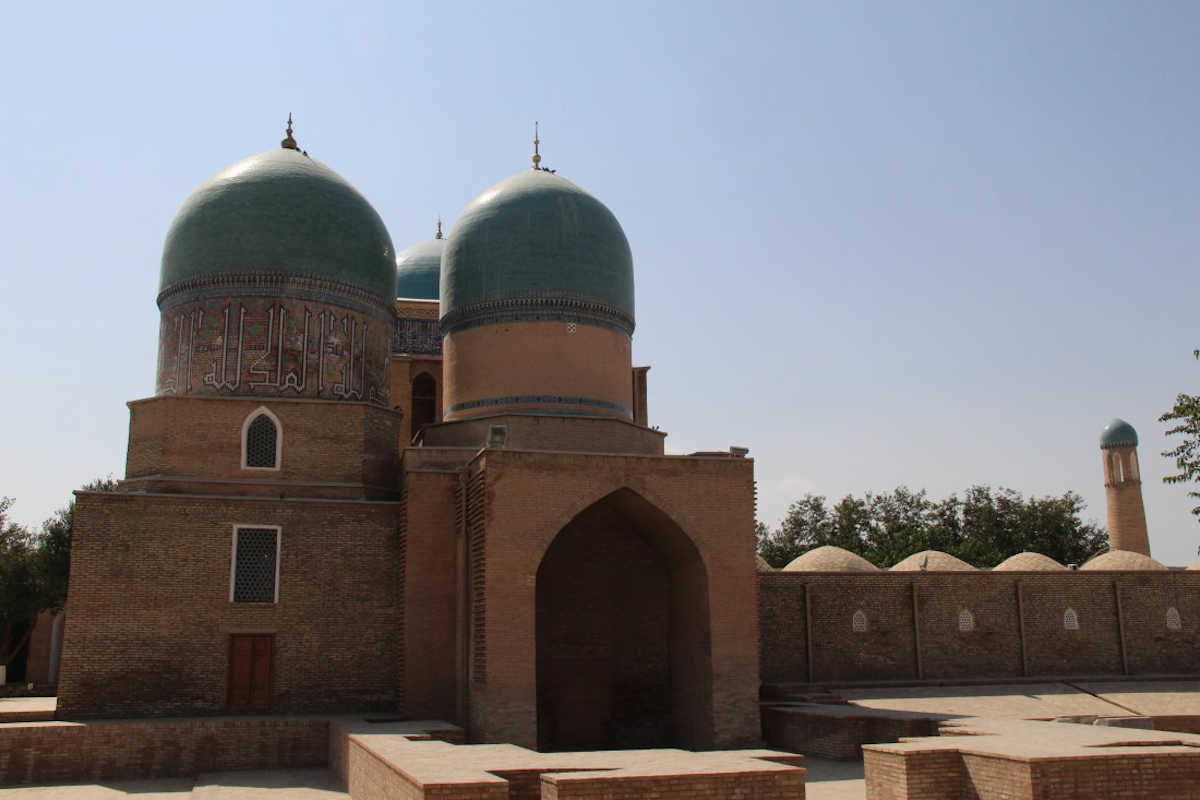 The entire architectural ensemble of the Dorut-Tilovat Madrasah can be attributed to the Ulughbek era. Two years after the construction of the Kok Gumbaz Mosque in Shakhrisabz, a tomb known as the Gumbazi Sayidon Mausoleum – "Sayid Dome" – was built on the southern wall of the Shamsiddin Kulol Mausoleum on Ulughbek's orders.
This completed the Dorut Tilovat ensemble. The small one-chamber mausoleum of exquisite proportions is adorned with a blue dome on a high drum on which Kufi inscriptions are carved in mosaic.
The almost square building was built in the typical style of the Ulugbeg period. The entrance from the west is decorated with a small, slightly projecting portal and a wooden door covered with a deep trihedral carving of a vegetative ornament bearing epigraphic inscriptions.
The lower part of the main hall of the mausoleum is decorated with a panel of blue hexagonal plates. The plafond and sails of the dome, the arched niches and all the walls of the Gumbazi Sayidon are covered with the most amazing fine paintings in red and blue.
The belt under the dome is filled with geometric ornaments forming a star motif. The dome itself is decorated with the complex polyhedral girikh. The ornaments between the arches are painted with a floral pattern and the surfaces of the walls are decorated with spirals.