Khiva - Nurullabay Palace
Nurullabay Palace, built between 1910 and 1918, is located on Mustaqillik (Independence Street) Street in Khiva and is in Dishan-Kala (outside the Kala).
The Khan of Khiva Muhammad Rahimkhan (Feruz), who visited St.-Petersburg several times and was accepted by the Russian Tsar, started the construction of the large palace in semi-European style for his son Isfandiyar Tura in 1906 on the territory of the garden that bore his name.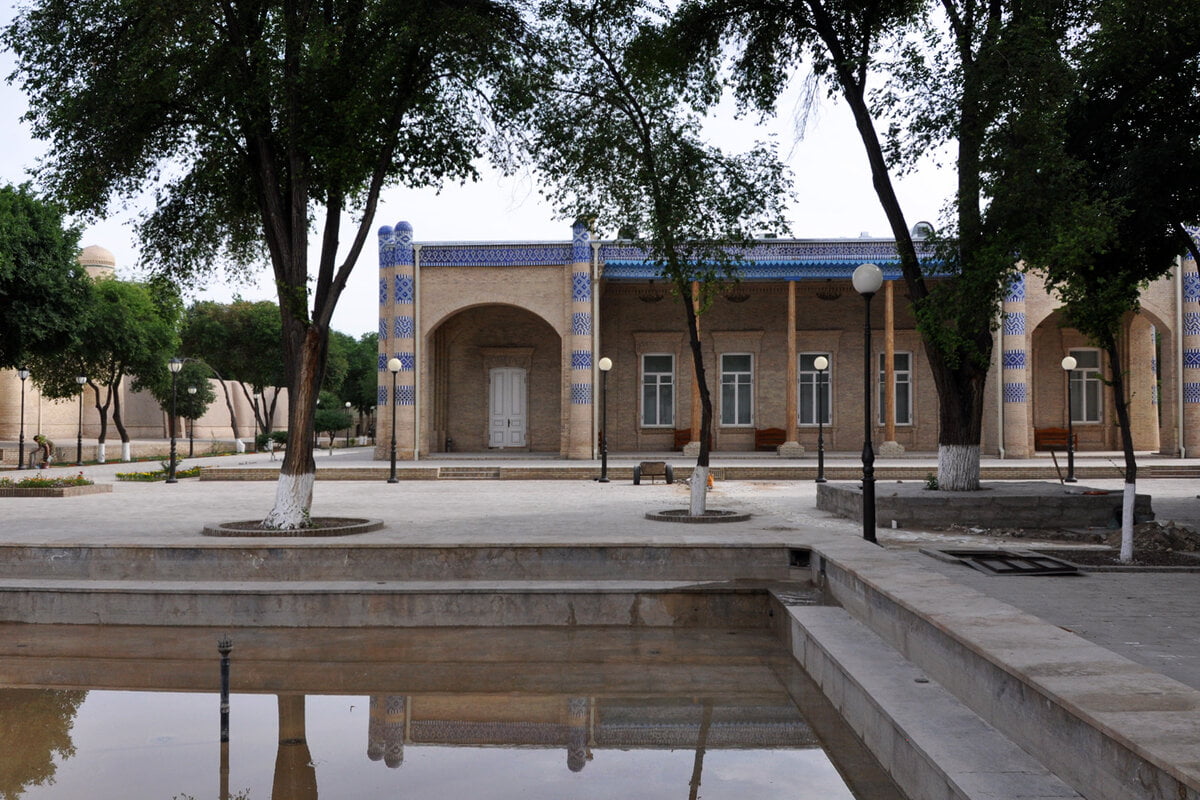 Nurullabay Palace consists of four parts; there are more than 100 rooms, galleries, rooms for guards, stables, rooms for servants and harem. The entire palace is surrounded by a brick wall with defensive walls and pillars.
Isfandiyar-khan, who was in power from 1910 to 1918 after the death of Muhammad Rahimkhan (Feruz), gave the order to build a hall for receptions behind Nurullabay Palace in Khiva, but the chief vizier was against this construction because the hospital, telegraph and other facilities were delayed for lack of money in the treasury at that time. Nevertheless, the Khan appointed Rahmanbergham Mahram to supervise the construction and it was completed very quickly in 1912. 70000 gold pieces were spent from the treasury for the construction work.
The reception hall of Isfandiyar Khan consists of seven rooms: a waiting room, a reception hall, a throne room, a banquet hall and three living rooms. The Russian Tsar Nicholas II donated two chandeliers and a small power station after the building was completed.
The architecture of the palace is characterised by a mixture of European and national styles, which can be explained by the fashionable trends in urban planning at the time. The building includes a reception hall, a courtroom, residential buildings and a madrasa.
The execution of the ceilings, frames and parquet flooring was done by German specialists, while the decorative ceramic tiles were specially ordered in St. Petersburg. Of particular interest are the famous Khiva carvings, covered with gilded and coloured paintings.
Seven fireplaces were built for heating. The parquet floorboards that covered the floor in the reception room were supplied from St. Petersburg. The Arzkhana was located in the south-eastern corner of the complex.
The additional, mostly double-sided rooms were connected to the inner corridors and separated from the street by walls with opening windows. The façades of Nurullabay Palace and the reception hall facing the courtyard are hidden behind a long corner aiwan with carved columns, typical of Khiva.
The dimensions of the structure are 186 m by 143 m, the reception hall 27 m by 32 m, the Arzkhana 82 m by 71 m, the palace 87 m by 65 m, the palace walls 7.5 m high.