Bukhara - Sitorai Mokhi Khosa
The summer palace of the Emir of Bukhara Sitorai-Mokhi-Khosa (from Persian "House of the Moon and Stars") is located 4 kilometres north of Bukhara. Construction of the palace began in the late 19th century, when the best craftsmen in the empire were sent to St. Petersburg and Yalta on behalf of the Emir of Bukhara, Ahadkhan, to study the experience of Russian architects. In 1890, local architects under the direction of Usto Hodja Hafiz built an old palace.
Therefore, the architecture of the ensemble is a combination of elements of typical European architecture with the decorative interior design of the palaces of Isfahan and centuries-old local architectural traditions.
Some of the palaces existed there even under the Amir Nasrullah and Muzaffar. But it was only under Amir Abdullahad that large-scale construction began at Sitorai-Mokhi-Khosa in Bukhara.
The most interesting new palace, consisting of several remarkable structures, such as the triumphal arch of the entrance gate with mosaics; galleries with a straight line around the courtyard; a section of European architecture with a greenhouse in front of a large water basin (1917 – 1918) and the rooms of the Emir's harem, located in the middle of the garden. The main part of the palace consists of several rooms and private flats of the Emir.
The most famous room in this area is the White Hall. The construction of the hall took 2 years (1912 – 1914). Under the Amir Alim-khan, the new palace complex Sitorai-Mokhi-Khosa was built in Bukhara.
The main building of the palace housed the reception rooms and the Amir's personal quarters. The new Sitorai-Mokhi-Khosa complex mainly housed Russian officials, while the rulers and authorities of Bukhara were received in the old palace.
Next to the new palace were the barracks of Amir Alim-khan's personal guard, the electricity plant, premises for privileged officials and servants, workshops and other household buildings.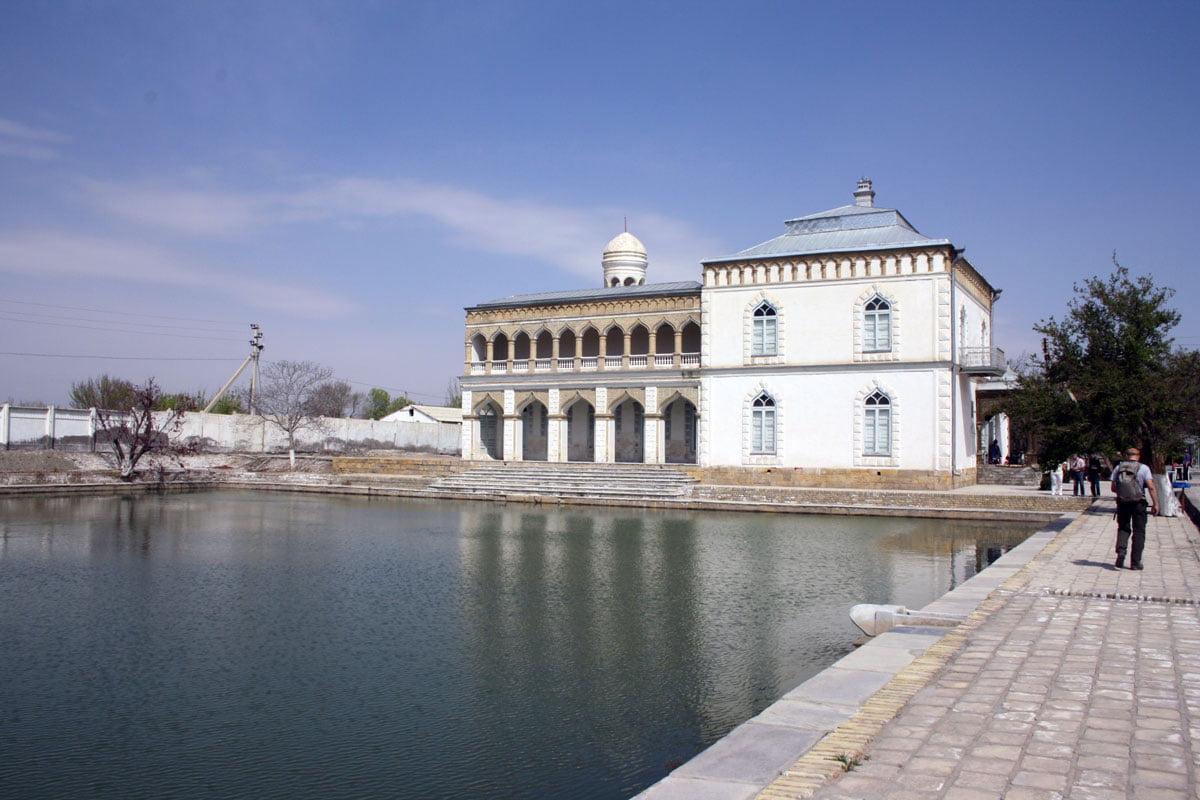 The project of the new buildings was designed by the engineer Margulis. Dutch tiled stoves, coloured glass, mirrors were supplied by Russian factories. The marble lions at the entrance were made by craftsmen from Nurata, who also made the marble spillways for the houses in the shape of a dragon's mouth.
A group of 25 to 30 skilled workers led by the legendary craftsman Usto Shirin Muradov completed the decoration of the palace. Muradov mainly created gulganch (carved plaster) that covered the walls and ceiling of the palace.