Khiva - Abdurasulbay Madrasa
The Abdurasulbay Madrasa in Khiva (1906) adjoins the southeast corner of the Yar Muhammad Devon Mosque. It was built at the expense of Abdurasulbay, a nephew of Muhammad Niyaz Mirzabashi (Kamil Khwarizmi), a great poet, composer and translator (Kamil Khwarizmi (1825-1899) was an Uzbek poet and musicologist. His real name was Muhammad Niyaz Mirzabashi. He studied at a madrasa in Khiva.His real name was Mukhammad Niyaz Mirazabashi. He studied at a madrasa in Khiva. He was a student of the Agakhi school. He served as secretary and head of the chancery of Muhammad-Rahim-Khan II).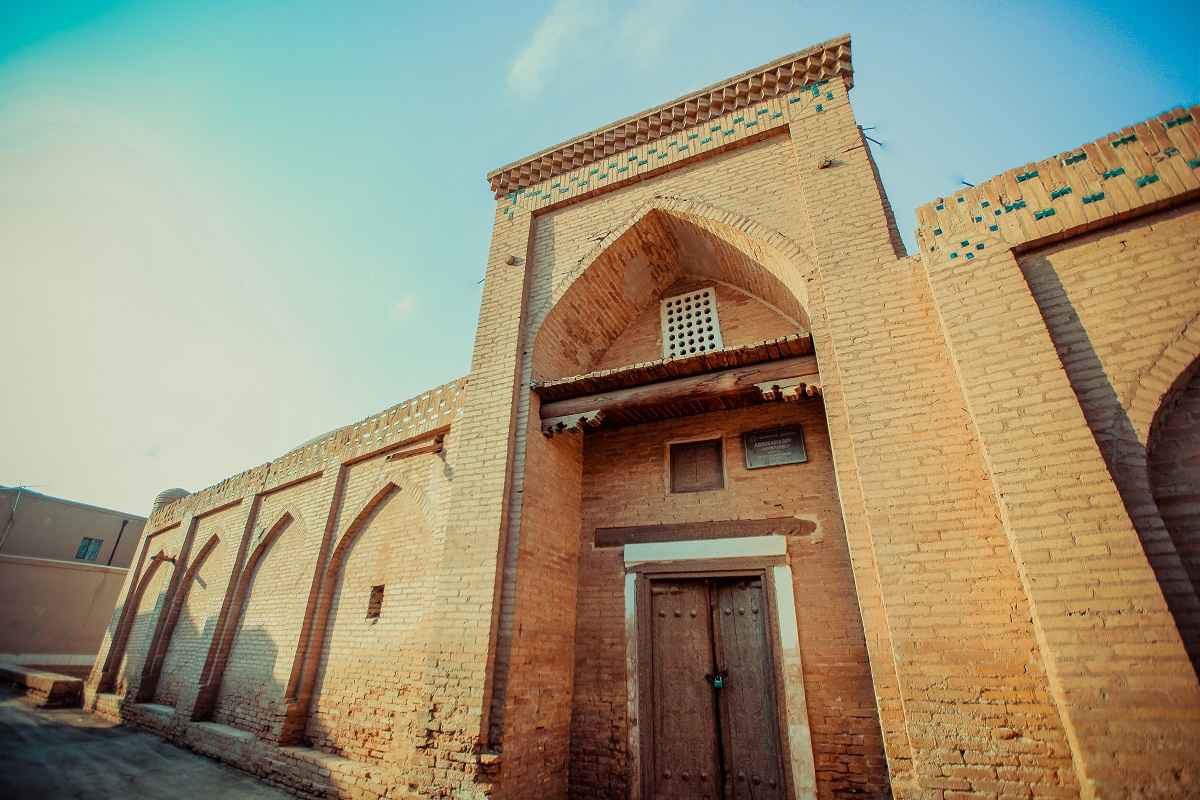 The entrance is located between two courtyards and consists of two interconnected dome sections, with one side facing the courtyard of the madrasa. The two daughters of Abdurasulbay are buried in two hujjas.
The Abdurasulbay Madrasa in Khiva has two courtyards, and the layout of the madrasa is quite large (area 30×65 m). In the western one (6,9х3,6 m; in trapezoidal shape) there are two cruciform rooms in the corners, a mosque covered with a dome in the south, two hujshras with two entrance openings in the north. The eastern courtyard (7.1 m x 5.5 m; rectangular) is also surrounded by enclosing rooms. The first floor rooms (above the corridor) and other rooms for the students have vaulted ceilings. The wall fronts are decorated with brushed bricks, painted green (glaze) in the upper part of the portal and walls.
At the entrance to the madrasa is a gate consisting of two wings. The right-hand blade has an inscription on the crossbar bearing the name of the master: "Bogbek. But the second line of the inscription, which bears his father's name, has not been preserved.
Today it is a cultural heritage in Uzbekistan. It is also, an object of tourist service and display, which housed a workshop for embroidery suzane.