Bukhara - Baland Mosque
The Baland Mosque is a typical manifestation of innovation in the architecture of Bukhara at the end of the Navoi era and in the first decades of the Uzbek Khanate. The name Baland Mosque owes its fame to its location on the high stone foundation.
South of the city park and the Kosh Medrese, in the depth of Bukhara's residential buildings, is the historic mosque called Baland ("High"). This mosque of the rich Bukhara district is more than five hundred years old.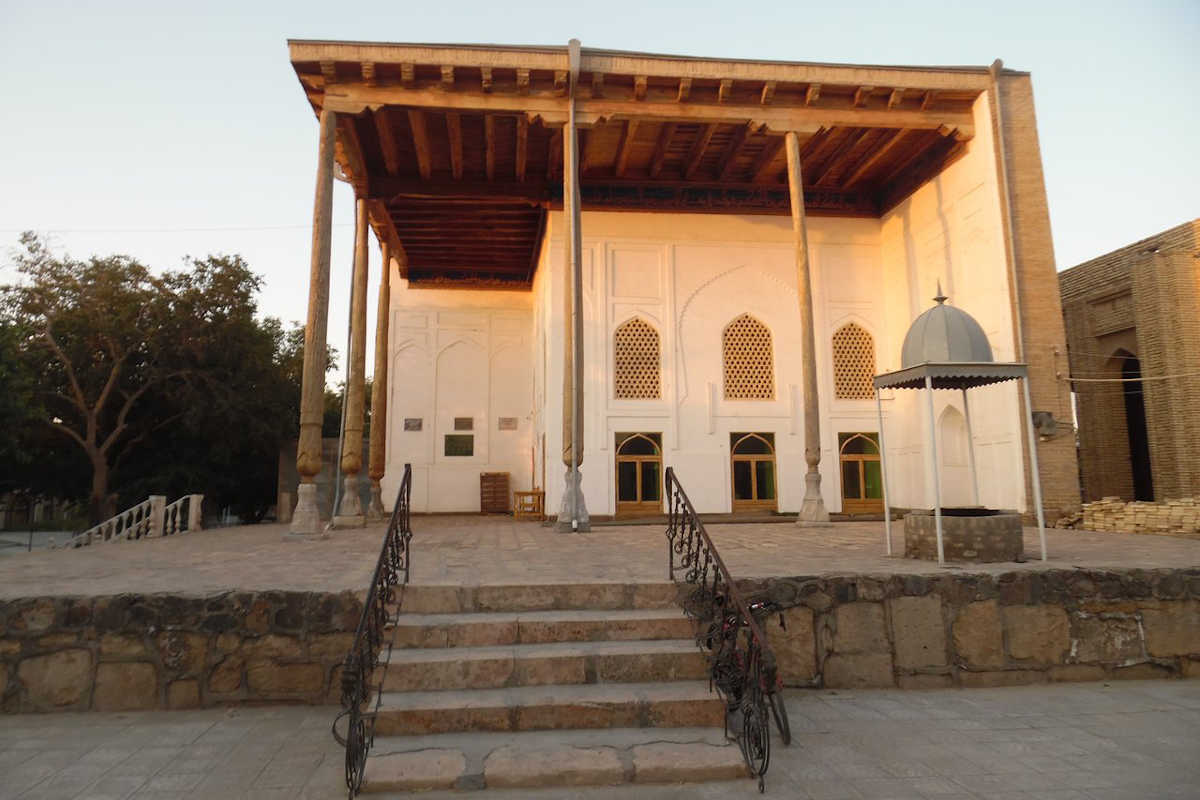 The oldest part of it is a rectangular winter building. It is enclosed by an L-shaped pillared aivan, which serves as a summer mosque. The wooden columns with stalactite capitals on marble bases and aivan ceiling were made in the XIX century, replacing the earlier structures.
The suspended ceiling of the Baland Mosque is unique, decorated with geometric ornaments and domes carved from wood. The small inner hall of the structure has a richly decorated mihrab and a wooden pulpit – minbar. The mihrab and wall panels are covered with carved Kashin mosaic in blue-green shades.
The walls of the mosque are covered with multi-coloured painting in kundal technique with abundant gilding. The floral and vegetative ornamentation gives this painting the impression of wall "carpets".
A special spiritual atmosphere is created by the Arabic inscriptions in complicated Sülüs script.
Cubic volume with flat suspended ceiling and Aivan on the carved wooden columns is a typical example of the Guzar mosques in the neighbourhood. The colourful splendour of the mosque is concentrated in its interior, in the decoration of the ceiling and walls.
The dominance of the surfaces is compensated here by classically found proportions of the parts: a panel, above it large and small panels, then a frieze. The panel of the Baland Mosque consists of a series of rectangular frames, each filled with a mosaic pattern.
The central part of the wall is decorated with a lancet-shaped panel filled with a floral pattern, then a narrow inscription panel above the frame, then a moulded cord above the frame – they alternate with each other and vary in shape and pattern.
The ceiling is of wood, intricately carved, with a dripstone recess in the centre of the star-shaped figure. The hexagonal tiles of the panels are decorated with ornamental painting in gold.
In the Baland Mosque, the means of pictorial decoration of the walls are developed with extraordinary brilliance in Bukhara.
It is not surprising that in the architecture of later times, architects repeatedly turned to the interior of the mosque as a model and worthy example.