Bukhara - Tim Abdulla-Khan
In the East, trade has always been considered a noble occupation. And in the noble Bukhara, bazaars buzzed and the doors of craft shops were opened hospitably along the streets. But in the XVI century huge covered trading domes were built in Bukhara, one of them, the Trade Dome – Tim Abdulla-Khan, named after its builder, a ruler from the Shaibanid dynasty, still exists today. The trade dome was built in 1577 to sell silk and wool goods. The mall is located on a market street that connects the domes of Toki Zargaron and Toki Tilpak-Furushon.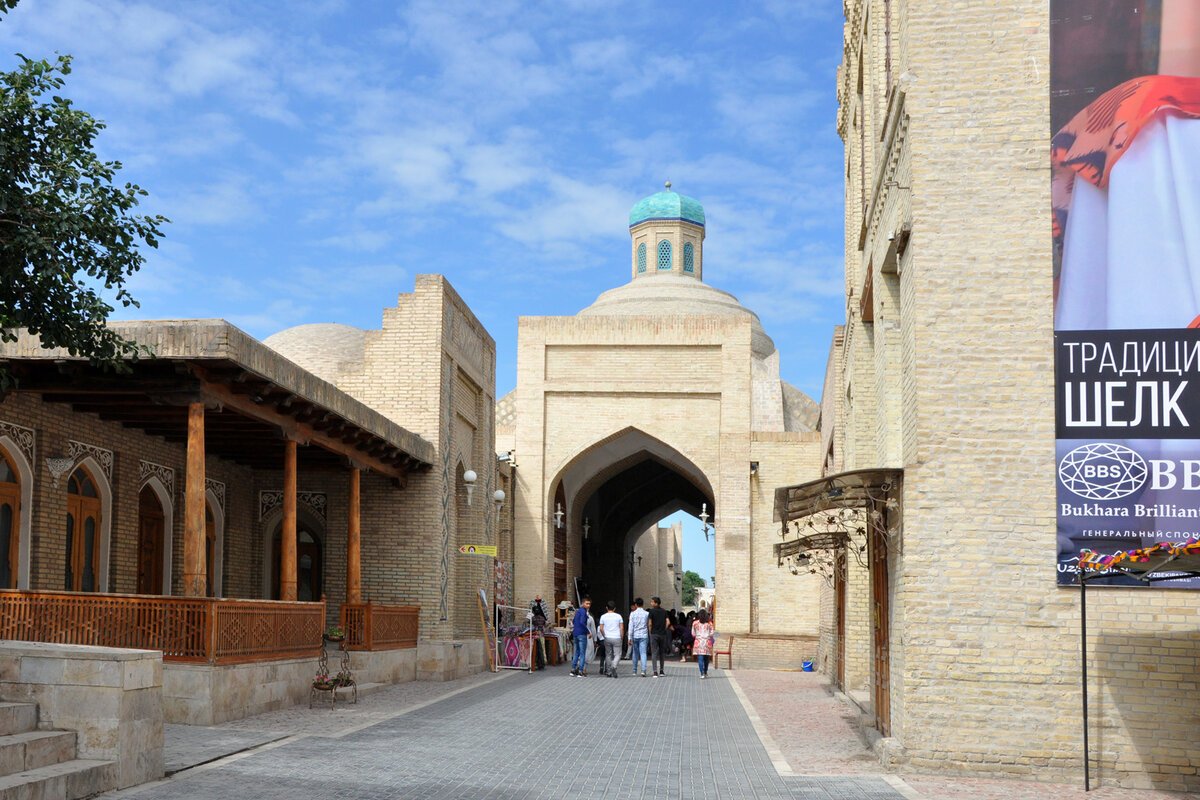 This huge, square-shaped building with several domes is located on one of the main market streets in the city. Its central dome rises above the octahedral base, between whose pillars lancet arches are thrown. Around the main room there is a gallery covered with many small domes on massive supports. The arched niches form the space of the shopping centre for 56 shopping arcades. All rooms of the dome are connected by a system of spacious vaulted enfilades. Through the window, which is cut in the main drum of the dome, mild light falls and shines in small domes.
An ingenious interior solution created a unique microclimate in the Tim Abdulla-Khan. Air circulation, semi-darkness and refreshing coolness welcomed customers on hot summer days. And it is not difficult to imagine the feelings of the travellers when, after a long journey through salt marshes and sand, their caravan entered the vaults of the hospitable Bukhara, where a well-deserved rest awaited them.
The trading dome Tim Abdulla-Khan was intended for the sale of silk, for which Bukhara was famous even before the Arab conquest. In the village of Zandana near Bukhara, silk patterned fabrics were woven, which were exported to the West under the name of Zandanechi by merchants along the Great Silk Road from Sogd. From the XVIth century onwards, velvet bakhmal was woven in Bukhara with an abrasive pattern of silk. And for several centuries the famous fabric – Khan Atlas, whose craftsmanship has been passed down from generation to generation, from father to son, has been woven from the shelves of the Bukhara bazaars.
The surviving trade buildings were only a small part of the Bukhara streets, which were densely built with shops and workshops in the Middle Ages. But even those that have survived from time to time provide an impressive picture of the historic city in the Orient, where overseas goods themselves served as the best decoration for the shops.