Tashkent - Chorsu Bazaar
The Chorsu Bazaar in Tashkent is one of the largest in Central Asia. Under seven huge domes lined with colourful glazed ceramic tiles are pavilions where farmers sell the fruits of their labour. The abundance and variety of goods at the fruit and vegetable stalls astounds the eye at any time of the year. Mountains of red apples and honey pears, bunches of black, pink and amber sweet grapes, peaches with delicate fuzz, plums and huge quince fruits pile up at the stalls. Yellow figs carefully covered with green leaves. Pomegranates with ruby-red seeds and orange-red persimmons are placed in baskets. Huge watermelons and pineapple-scented melons pile up like mountain peaks.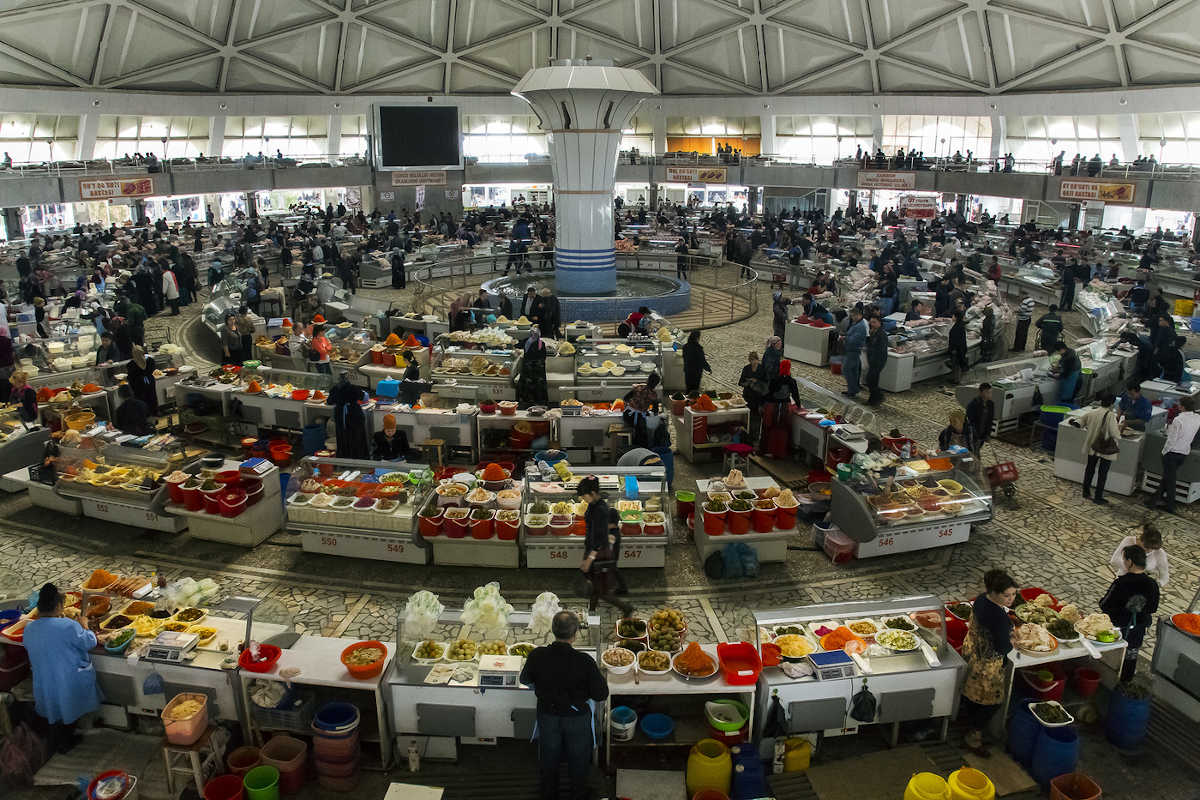 The Chorsu Bazaar is not only the largest bazaar in Tashkent, but also the oldest. More than two millennia ago, there was a suburb of Tashkent – Rabad Chach. Here, on the border between steppe nomads and settled tribes, there was a special fair in ancient times, where both local farmers and nomads and foreign merchants exchanged their goods and traded. And in the early Middle Ages, this bazaar was at the junction of downtown Shahristan and Rabad, inhabited by artisans, and became a real urban centre. The trade routes emanating from the Great Silk Road led here from all the city gates. The bazaar was not only a place of trade, but also a kind of club where people learned the news of the city, and the heralds – jarchi – announced the khan's decrees.
Nowadays, the Chorsu Bazaar still retains its importance. It is equipped according to all modern requirements. Almost all means of transport lead there, communication works perfectly here, the premises have been repaired and renovated and many rows of trade and shops have been built.
In one of the pavilions, a cloud of spicy aromas envelops the customers. There is a lot to see and do! Saffron and cinnamon, red and black pepper, cloves, nutmeg and cardamom, cumin and zira seeds, without which you cannot cook a real Uzbek pilaf. Fresh lamb and selected beef can be found under another dome. Bags of rice pile up, crystals of navat sugar sparkle. Vendors vie with each other to offer sultanas and apricots, almonds and pistachios, walnuts and peanuts.
As in ancient times, the Chorsu Bazaar in Tashkent is surrounded by workshops of artisans making and selling jewellery and gold-embroidered robes, embroidered suzans and Uzbek national knives, wicker baskets and embossed trays in various sizes and configurations, and national musical instruments. In the carpet row are carpets and palaces from Khiva, Samarkand and Bukhara.
The architecture of the building has been carefully preserved and, despite the restorations, a huge dome glazed with blue tiles and covered with traditional ornaments bears the imprint of antiquity and national culture. The dome is about 300-350 metres in diameter. This structure is a winter market consisting of three floors equipped with lifts.
On the lowest level there are basement rooms, corridors and various utility rooms. On the middle and upper levels are the stalls with goods. The market rows are divided according to the type of goods sold: Fruits, vegetables, nuts, oriental sweets, spices, grains, clothes and household items are sold in separate pavilions.
The main attraction of the market is, of course, the rows of stalls. You can find products for every taste: carpets, souvenirs, household items, handicrafts, spices, sweets and all that with a touch of oriental flair.
The traditional assortment of any bazaar, including Chorsu, also includes local seasonal fruits and vegetables, greens, meat and dairy products (katyk – sour milk, kefir, cottage cheese and kurt (curd balls), spices (red and black pepper, cumin, cumin, cinnamon, nutmeg, saffron, cardamom, cloves, zira, coriander, turmeric and dried ground tomatoes). According to locals, the Chorsu market always sells the freshest and tastiest produce.
The second level of the Chorsu bazaar sells dried fruits (apricots, sultanas, plums), different kinds of nuts and of course traditional oriental sweets (navat, parvarda, peanuts in sugar, coloured sultanas, nuts in apricots, salted apricot kernels).
In the open part of the market you will find the stalls where you can try different dishes of Uzbek cuisine: Naryn, mutton liver shashlik on a spit, genuine Uzbek pilaf, samsa.
There are also various workshops where visitors can watch craftsmen making bowls, various musical instruments and beautiful caskets. You can also buy souvenir Uzbek chapan, tyubeteykas (skull caps), hand-embroidered bags and cosmetic bags, as well as handmade costume jewellery and products made of gold and silver.
At the Chorsu Bazaar, as at any other market, you will have to haggle. Each vendor will have their own product available for sampling, which is something you should not neglect. You can try and buy everything after browsing through all the rows.
A nice bonus is that there is always something to eat here: Hot lepeshkas, pilaf and many other oriental dishes and drinks can be found near the rows of shops.