Khiva - Kibla Tozabog residence
The Kibla Tozabog residence is one of the summer residences of the rulers of Khiva and is located southwest of the city, at a relatively short distance of two kilometres. The area of the palace is half a hectare and it was built during the reign of the Kungrat dynasty of Khiva.
The summer residence was built for the dynasty's eleventh representative, Muhammad Rahim-khan II. The Khan himself was 52 years old at that time, he inherited the throne at the young age of 19 and for the long years of the reign has had the time to build the considerable spiritual educational institutions, the mosques, the various buildings of civic appointment. In particular, the ruler of Khiva founded the largest in Central Asia, unsurpassed in scale, madrasa, which bears his name to this day.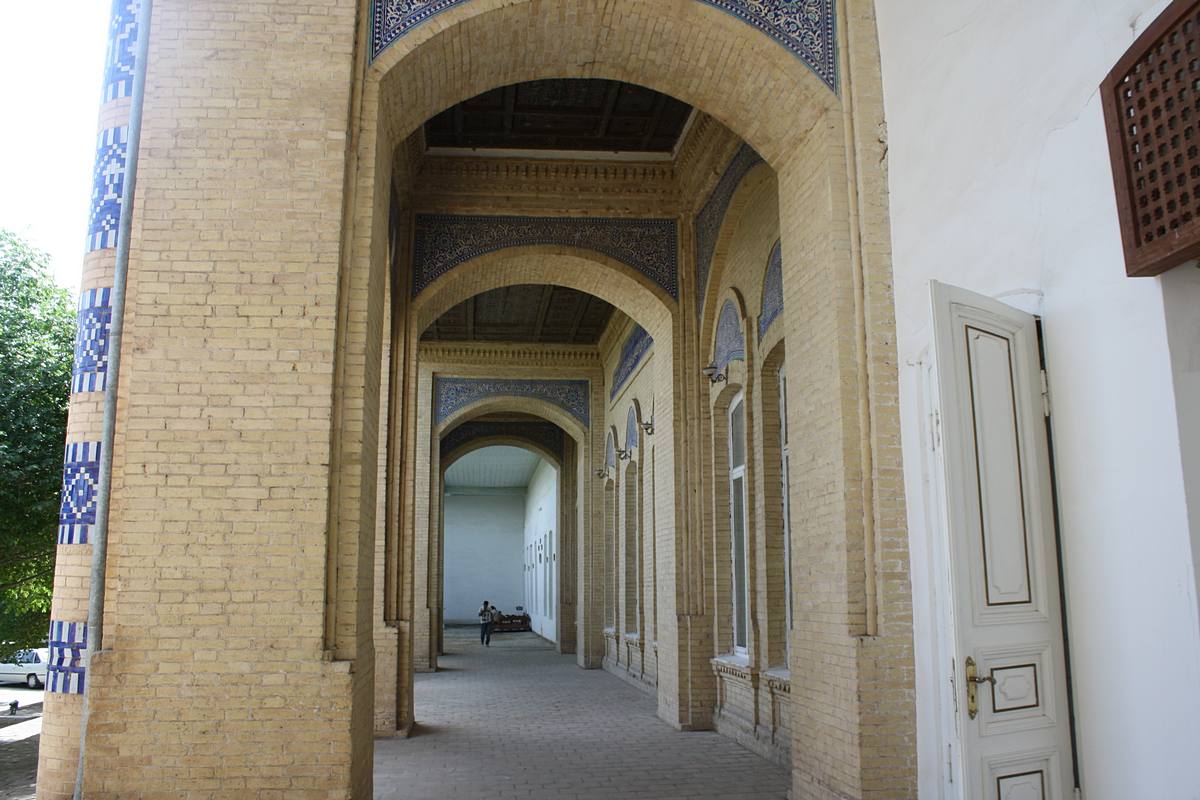 The name of the residence Kibla Tozabog is translated as "pure garden" and indeed, there is so much greenery on its territory that creates freshness, beds of flowers that really decorate this place. In the architecture of the buildings and interiors, one can feel the influence of Western civilisation. According to the fashion of the time, the ruler of Khiva involved the architects from Russia and other countries in the construction. But the oriental styles have also been preserved. The residence is surrounded by a fortress wall, which is reinforced with watchtowers. The entrance to the residence is through a gateway with ornate carved decorations.
Kibla Tozabog – a suburban residence of the Khan in Khiva, whose construction began in 1897, unites in a single complex three unequal in area courtyards. Each courtyard was built with spacious, two-storey houses, the facades decorated with wooden columns traditionally decorated with intricate carvings. Impressive overlaps – the Aiwans also had ornately carved railings and pillars. On sunny, hot days, he himself liked to stroll across the rationally designed ceilings of the Khiva Khan accompanied by his entourage. The entire perimeter of the palace buildings was densely packed with a variety of services.
The three courtyards of Kibla Tozabog are not similar to each other. The central place in the first one is occupied by the fountain with the artificial pond surrounding it, which in turn is framed by flowerbeds. Here there is also a spacious hall for receiving guests and ambassadors, the interior of which is designed strictly in the European style (in particular, the room has large bright windows, which are not typical of the Orient).