Bukhara - Mausoleum Bayan Quli Khan
One of the students of Sheikh Sayf ad-Din Baharzi was the Genghiside Bayan Quli Khan (died 1358). In 1346 the power in the western part of the Mongolian Ulus Chagatai, to which Bukhara belonged, was taken over by Amir Kazagan.
Amir Kazagan did not belong to the Genghisid clan and ruled in the name of Bayan Quli Khan. When power passed to the son of Kazagan, Amir Abd-Allah, he executed Bayan Quli Khan. Bayan Quli Khan was buried near the mausoleum of Sheikh Sayf ad-Din Baharzi.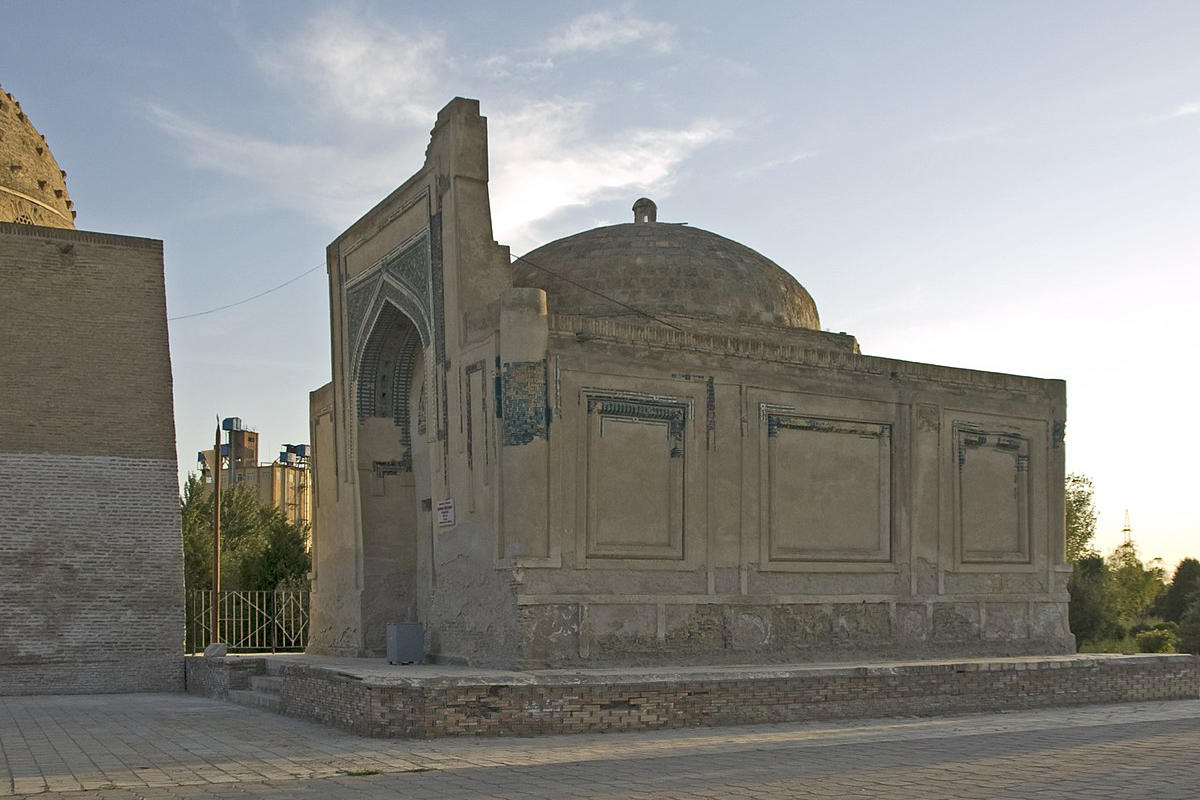 Around 1358, under the Temurids, the mausoleum of the Mongolian Khan Bayan Quli Khan (died 1358) was built in Bukhara near the honorary tomb of the famous Central Asian scholar Sheikh Sayf ad-Din Baharzi (died 1261). The mausoleum is characterised by a rich ornamental decoration with carved cast terracotta.
This two-chamber building consists of Ziyarat-khana (pilgrimage room) and Gurkhana (burial room), with a narrow bypass corridor. The main façade, to which the portal is dedicated, stands out from the others and covers the stocky domes of the building.
The facades of the building and the interior of Ziyarat-khana are dominated by carved cast terracotta (lost in many areas), made of large slabs and in the stalactite filling of the sails – whole blocks.
The ornaments are dominated by girih tiles, imitations on masonry slabs, but above all by the finest plant meshes and bizarre inscriptions. The colour is dominated by light blue, which is complemented by white and blue.
The building above the funeral of Sheikh Sayf ad-Din Baharzi (2nd half of the XIVth century) is adjacent to the basement of the mausoleum of Bayan Quli Khan in Bukhara. It is also composed of two chambers (Gurkhana and Ziyarat-khana), but excellent in composition and of considerable size.
Both rooms are crowned by egg-shaped domes; dominated by the dome of the Ziyarat-khana. The side facades are accentuated with vaults in rectangular frames. The burial is marked by a three-tiered majolica gravestone.
The prismatic volume of Mausoleum Bayan Quli Khan in Bukhara contains two rooms: the domed hall – Ziyarat-khana and the dark burial vault behind it, which is encircled on the sides of the corridors, as was customary in Buddhist temples.
The most important artistic value of the mausoleum are the carved cast terracotta and miniature tiles with which it is decorated inside and outside. A gamma of 11 colours is typical of the pre-Temurdish era: blue, manganese black, white and to a lesser extent – blue.
The platform on which the mausoleum stands is lined with a traditional motif: Adobe masonry with inserts of blue glazed "arches" on the vertical walls and its surface is lined with parquet in the form of hexagonal ripples in a rectangular enclosure. Its architectural solution was innovative for its time: it is one of the early examples of a two-chamber mausoleum.