Vabkent - Minaret
The minaret in Vabkent is located in the city of Vabkent, Vabkent district, Bukhara region. Specialist literature mentions its similarity to the Kalon minaret of Bukhara, but the size is smaller and the decoration of the minaret of Vabkent is worse.
From the outside, the minaret is covered with polished bricks arranged in staggered order. Under the minaret's lantern is an inscription made of carved terracotta covered with glaze.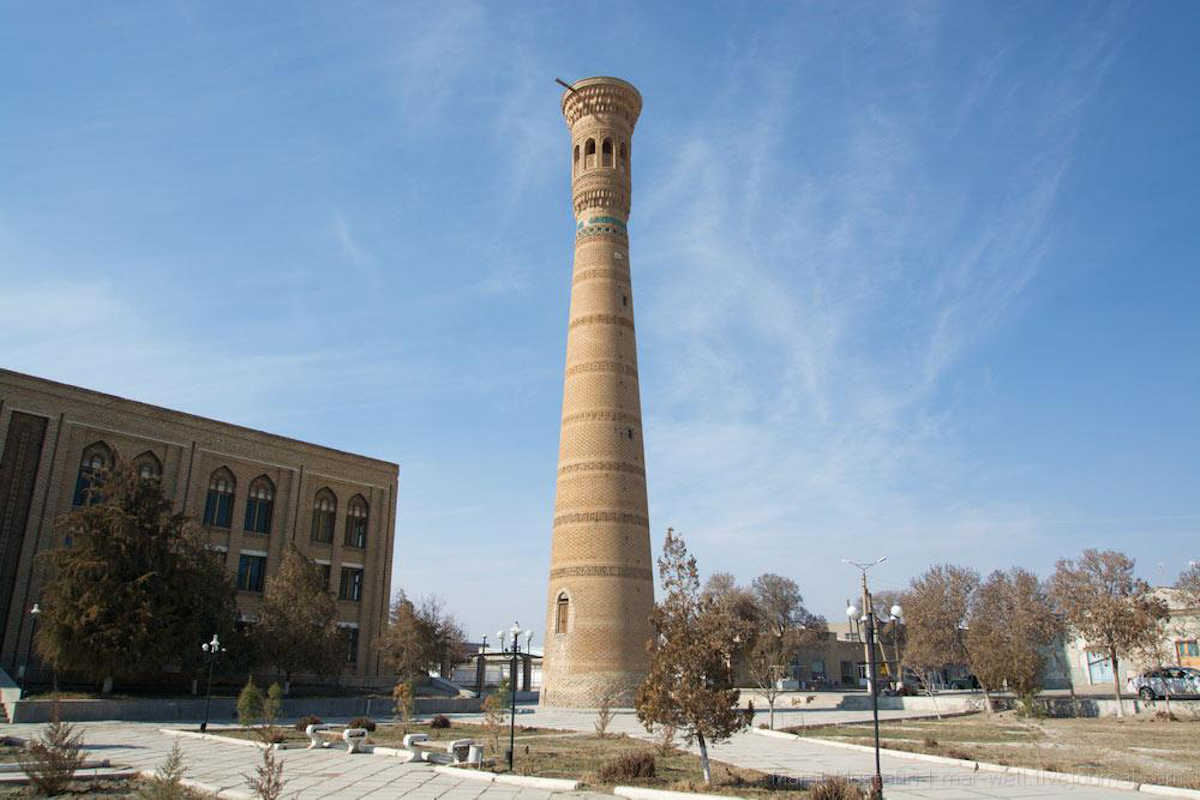 The inscription states that the minaret was built by Bukhara Sadr Burkhan ad-Din Abd-al Aziz II in 595 AH (1198 – 1199). The tall minaret can be seen from afar on the way into the city.
The minaret in Vabkent is one of the most refined creations of Uzbekistan's architecture from the end of the XIIth century. Century. The date of the beginning of construction (1196 – 1197) can be read under the Kufi inscriptions in the lower decorative step surrounding the tower.
And on the upper tier, it is written in "Diwani" handwriting: "This minaret was built in the months of 595". The minaret in Vabkent has poorer fittings and is 7 metres lower than the Kalon minaret in Bukhara.
However, the slimmer proportions of the hull make the minaret in Vabkent appear taller and more graceful than the Kalon minaret. The minaret is staggered on the outside and clad with cut bricks.
Under the lantern is a glazed inscription in carved terracotta. The minaret is almost 39 m high, 6.2 m in diameter at the bottom and 2.8 m at the top. The ascending slender trunk of the huge column is crowned by a multi-arched lantern with a magnificent stalactite cornice at the base and at the top.
One can only reach this rotunda via the spiral staircase. The trunk of the minaret is decorated with ornamental belts (figurative masonry, carved terracotta with epigraphic and geometric ornaments), between which run smooth fields of facing.
It is laid out in pairs of bricks with inserts between them of vertical "arches" and punctiform bricks, different on all floors. Each is pleasing to the eye in its own way.
The remarkable uniformity of composition here is achieved through refined interpretations of the basic method.