Samarkand - the Medrese Sherdor
The Medrese Sherdor was built on the site of the Ulugbek-Khanaka in Samarkand, which was created in 1424 in the eastern part of the square opposite the Ulugbek Medrese. At the beginning of the XVII century the Khanaka, together with other buildings of the square, was dilapidated and dilapidated. By order of the ruler of Samarkand Jalangtush Bahadur the construction of Sherdor and Tilla-Kari addresses was started. The Medrese Sherdor (Medrese "with tigers", " home of the lions") was built by an architect named Abdul-Jabbar, the master decorator Muhammad Abbas.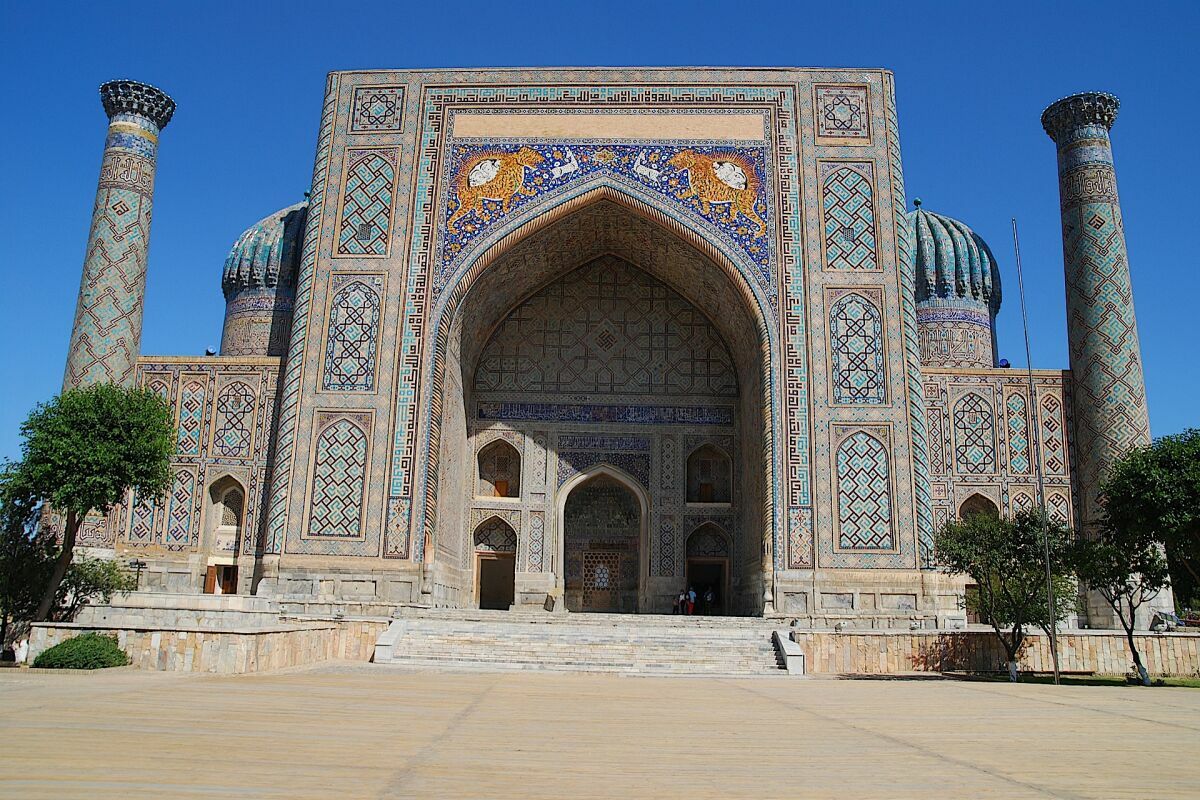 The Sherdor Medrese in Samarkand almost mirrors the Ulugbek Medrese standing in front of it, albeit in reverse proportions. It is characterised by its oversized dome, which may have caused the gradual destruction of the building a few decades after its construction. The walls of the madrasah are covered with quotations from the Koran, the entrance portal shows the coat of arms of Samarkand – leopards with the sun on their backs, in the centre of the arch there is a swastika, and above it there is a special Arabic script on which is written " The God is Almighty". The outer and inner facades are decorated with glazed bricks, mosaics and paintings with rich gilding. The decoration of Medrese Sherdor is clearly inferior to the refinement of the Medrese Ulugbek built in the XVth century, which fell into the "golden age" of Samarkand architecture. Nevertheless, harmony of large and small forms, graceful mosaic pattern, monumentality, sharpness of symmetry – all this puts the Medrese in a row with the best architectural monuments of the city.