Bukhara - Abdulla Khan Madrasa
The Abdulla Khan Madrasa in Bukhara, built in 1588-90, is one of the most outstanding works of Central Asian architecture. The main entrance to this Madrasa is designed as a high portal. The dimension of the façade and the variety of decorative materials give it a colourful, festive appearance. Cold tones of majolica tiles (blue, greenish-blue, white) play well in bright sunlight.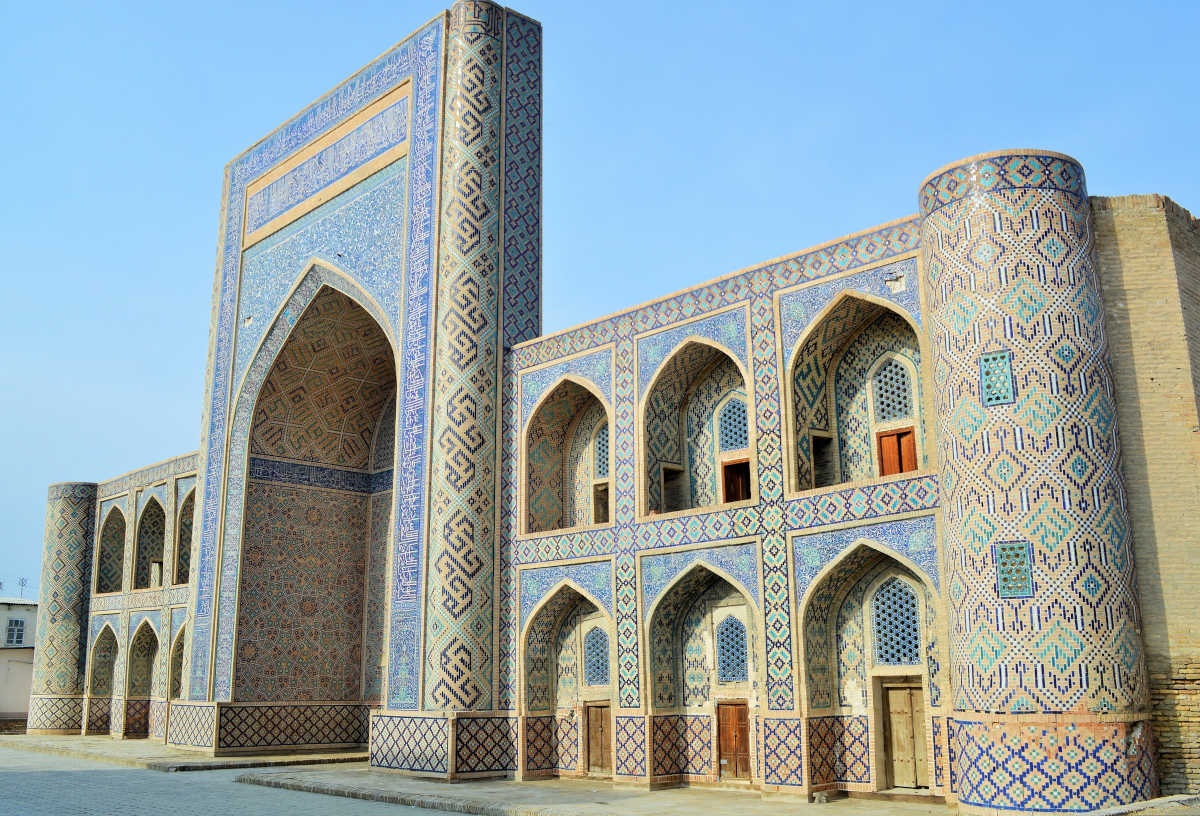 The Abdulla Khan Madrasa in Bukhara is located opposite Madari Khan Madrasa and forms with it a single architectural ensemble called Kosh Madrasa. In Central Asian architecture, the building ensemble consisting of two facades facing each other is referred to as "kosh". (twin, paired) and in relation to the two madrasas "twin madrasas".
The school of Bukhara introduced local peculiarities into the traditional architecture of the Madrasa, the appearance of which is striking in the 15th century, when comparing the first preserved Madrasas in Central Asia, built by Ulugbek in Bukhara, Gijduvan and Samarkand. Ulugbek's Madrasa in Samarkand had beautiful facades and tall thin two-tier minarets at the corners of the building. The basic principle of the ground plan remained unchanged – the rooms were arranged around the courtyard. In Bukhara the main façade is opened by arched loggias, while in the corners of the building there are stocky towers – guldasta, cut at the height of the side wings. The Bukhara madrassas also differed in their design features.
The doors of the Madrasas are made with great skill from individual pieces of wood with the finest carving without a single nail.
The floor plan of the Madrasa has a number of features that show that the architects tried to use the inner space as rationally as possible, including as many rooms as possible. Opposite the main façade is a group of hujras (a small living room for pupils/students) and behind it, to the right and left of the entrance hall, are the mosque and the darskhana. An interesting feature is the location of the mosque; its ground plan is slightly rotated in relation to the main axes of the madrasa, but not towards the Qibla (i.e. towards Mecca), but strictly on the sides of the world.